I'm frequently asked if you're allowed to build a second home on a piece of land.
For example,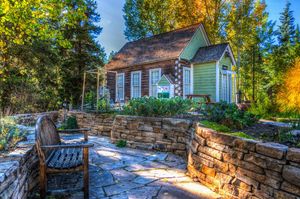 we recently helped some clients buy a gorgeous home on a 9 acre parcel and they'd like to put up a little cottage for Mom to live in. There's plenty of room on the property for a second residence.
Will they have issues with zoning?
Straight from the horse's mouth, here are the guidelines from El Paso County Planning and Development (click here to go directly to the site for more information):
May I build a second home or a home for a parent or relative on my property?
      The Land Development Code, as a general rule, does not allow 2 homes on a parcel of land that is smaller than 35 acres.  However, in some circumstances other dwelling types may be allowed.  One example is a Guest House.   The LDC defines a Guest House as "Lodging attached to the principal dwelling or located within a garage or accessory structure which may be occupied only by occasional, non-paying guests or visitors of the family residing in the principal dwelling.  A guest is not considered a dwelling unit.  Extended family housing is a form of guest house utilized on a non-permanent basis to house immediate family members that require housing due to age, disability, or family need.  A family member shall be related by blood, half blood or at law, and which term "at law" also incoudes in-law relationships arising from a deceased of former spouse."
        A Mother-in-Law Apartment is defined as "supplemental living quarters, including a kitchen, that is attached to or part of the main dwelling unit, used exclusively by family members or an employee of a person residing in the main dwelling, and otherwise not rented or leased.  A Mother-in-Law apartment is not considered a dwelling unit.